i've been a bit delinquent on the blogging in the last couple days...but i have been up to lots of cool stuff since i got into new york city on sunday. sunday night i just lied low, since i was so tired from not sleeping much in DC, and then the bus trip up to NYC.
Rob
and i watched a lot of beavis and butt-head, though. :D
monday, i went up to manhattan and had lunch with
Jammie
, which was a lot of fun. i hadn't hung out with her since my trip to new york in august, so it was really cool to sit around and chat and eat tasty bison burgers. i was still pretty tired, though, so i went back to long island after lunch. that night was a deliciously nerdy evening in with Rob...there was a
hackerspaces.org
conference call going on that night, where people from different hackerspaces and hackerspaces-in-the-works around the world all called in and gave updates about what their spaces were doing, or how far along they were in the process of getting their spaces up and running. since i'm involved with
pumping station: one
, the hackerspace being planned in chicago, it was really neat being on that call to hear what others were up to, and to say a few words about what we're up to. Rob listened to the call with me, thanks to the magic of headset splitters. :D
yesterday, i spent the day in an actual hackerspace. Matt from
nyc resistor
, the hackerspace in new york city, was also on the conference call monday night, and invited me to come visit the space since i was in town. it was such an awesome day...it was my first trip to a permanent hackerspace. [the only one i had been to previously was the temporary one they set up at HOPE this year.]
they have a laser cutter there, and we made a pumping station: one logo in it. there's a picture of me with the logo
on nyc resistor's site
, and i've also got a
gallery on picasa
of pictures of Matt with the logo, me with the logo, and the logo alone. it took a really long time to get the picture right...at first, all we had was a small thumbnail-sized logo. we tried to do what we each could with that, but we didn't get anything to work really well until Nathan, the pumping station: one member who designed the logo, emailed us a copy of the design which was larger, and in a vector illustration format so it could be sized to twelve inches by twelve inches easily. once that came in, Matt was able to reduce it to just the lines, delete the proper line segments [thanks to the "delete segment" function of corel draw...which is the image program on the computer attached to the laser cutter], and get the design we wanted to cut. then, we could FIRE THE LASERS!!!!
shiny.
i also found an old
p5 glove
that i adopted out of their trash bin. it's intact, but the company who made it has long been out of business...and the availability of linux drivers for it is rather fragmented. i need to find out how to get this to work on my boxen, and write up some kind of updated information about it. why? because
old, crappy virtual reality gloves are cool
, of course!
that brings us to today. first off,
today's xkcd
made me laugh so hard that i'm surprised no one told me to knock it off: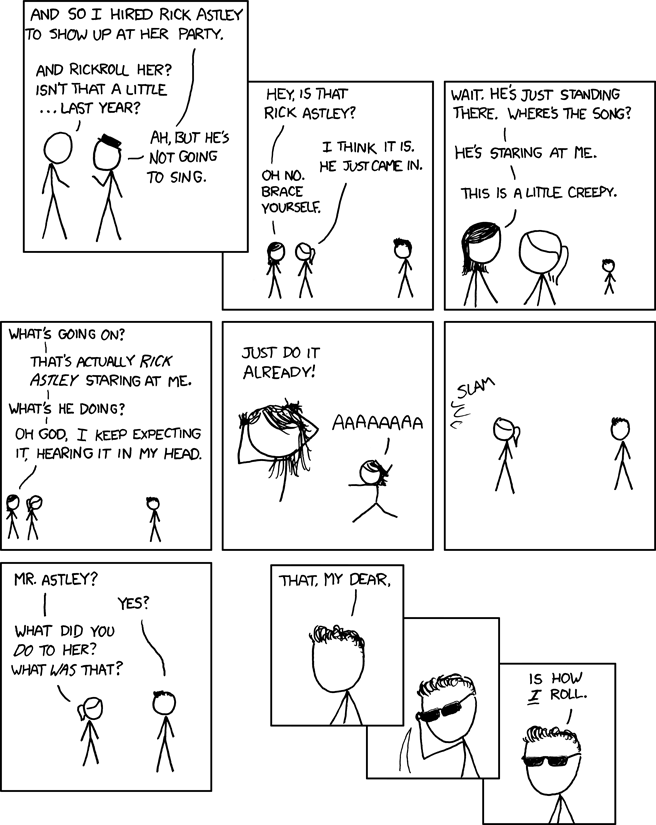 other than that, Rob and i will be going into town for
off the hook
, which is tonight. that's always exciting...and i love seeing Rob do the show live. [well, it's cool seeing everyone else do it live, too, but i am not ashamed to play favourites!] after that, it's off to
the new year's party
, which is going to be full of fun outfits...i will need to take many, many pictures.
since this will likely be my last blog post of the year...happy new year, all!